After the hustle of buying a train ticket in New Delhi railway station, and despite knowing the tricks to avoid the touts trying to sell us a "cheap" vacation taxi, me and Fernando headed to Old Delhi for the afternoon, in what was meant to be a calm first day in India. As the autorickshaw entered its narrow streets the dome of a red mosque raises from all the noise and mayhem at ground level: it's the Jama Masjid, one of India's largest mosques and a "lighthouse" of Old Delhi.
FUJIFILM X-E2 (27mm, f/3.2, 1/8000 sec, ISO400)

We were left at its main entrance, a busy intersection with vendors outside the gates and some shops nearby. It was a very hot Sunday, so we left the big mosque for later that day. It was much easier to find a shade in the streets that were on our back, wander in its dark alleys or even sit somewhere to have a nice cold drink, although a beer would be unlikely in a Muslim quarter. The main streets were packed and there were no visible patches of ground to walk on, all the available space was being disputed by vendors frying pastries in man-sized skillets, scooters that narrowly avoiding the girls siting on the ground having their hands painted with henna and, above all, the crowd that was shopping because it was the last day Ramadan.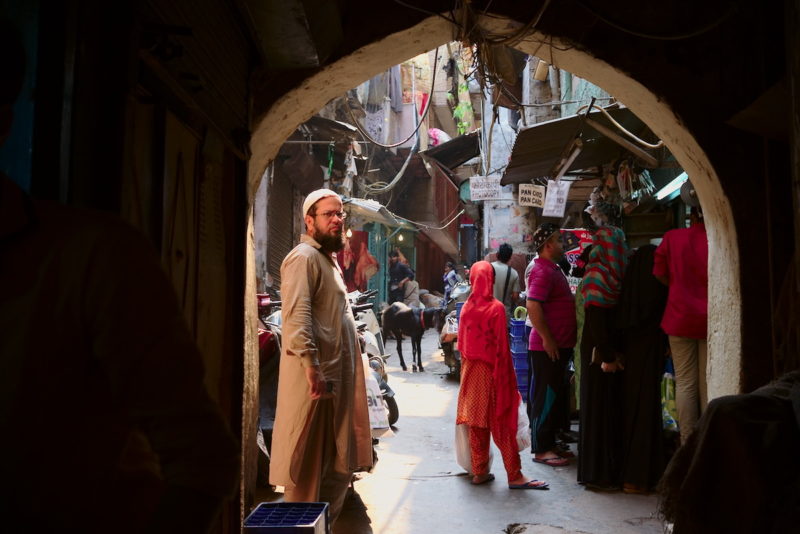 FUJIFILM X-E2 (27mm, f/3.6, 1/125 sec, ISO400)

As always, moving away from the streets into the alleys is a great way to find some breathing space. One of those was very tempting, with blue painted walls and a nice cool shade, but in the end it wasn't an alley at all, but a small mosque hidden between two shops, allegedly the oldest of Delhi. And indeed it was the best place to be that afternoon: a cool courtyard covered with carpets and fans in the ceiling gently moving the air below (one of those allegedly was 100 years old), made sense why some men were hanging out lying in the ground and doing nothing at all, just talking to each other (one of them allegedly was 115 years old…), made even more sense to join them and hang there for a while, lying on the ground and enjoy the breeze from the fans on the ceiling, enjoy the hospitality ad recover from previous day's flights.
FUJIFILM X-E2 (27mm, f/2.8, 1/125 sec, ISO400)

Back to the streets, time to go return to Jama Masjid, now everywhere was even more crowded that before, as the end of day approached, eventually we struggled our way back to the same busy intersection we arrived at. As we were there, just in the middle of the street, I felt something at knee level: a legless man, a beggar from the Old Town, crawling between the cars to cross the street. India anyways finds a way to surprise you…
Inside Jama Masjid things were much more relaxed than outside, and especially below the pleasant arches on its sides, where you could feel that mood like in any park or public area around the world when families go outside to enjoy their Sunday for an ice cream. In the middle of the courtyard hundreds were performing their ablution in the lake, just in time for the prayer that was about to start, many more were already ready as it started. It didn't take long until we could hear the muezzin.
FUJIFILM X-E2 (27mm, f/4.5, 1/350 sec, ISO400)

The prayer just ended and the Sun had just set behind the red mosque's big domes.
Meals were now being served for everyone in long lines inside the spacious mosque's courtyard. Now the stone slabs did not burn any you could sit on the ground and eat.
Ramadan was over. Eid Mubarak!
FUJIFILM X-E2 (27mm, f/3.2, 1/1100 sec, ISO400)

It was now time to leave Delhi, and move north towards the mountains. This trip had just started and this wasn't even its final destination.