The cult of the dead is something very present in Catholicism, just take a close look to the huge amount of shrines and relics of saints found in many churches of the world, and certainly is something southern Europeans are quite fond of, only surpassed by the scale it reached when missionaries took the Christian faith to the New World. So there's no surprise Holy Week and Easter celebrations have such importance in these countries.
Unlike the joyful mood of Easter Sunday, which is all about glory, light and resurrection, the the days that precede it in the Holy Week are much more about sorrow and gloom, are in fact days of mourning. Probably because of my natural sympathy towards dark and goth themes this specific part of the Christian faith always had a huge appeal in me (and other death related rituals), despite leaving religion behind many, many years ago.
Historically Braga is be the religious heart of Portugal, the city of priests and archbishops, so the Holy Week celebrations are dealt with much more intensity and devotion than most the country, the whole city takes part, the whole city attends, the whole city turns purple (the mourning color). What drawn my attention were the iconic and highly scenic night processions that take place on the nights until Good Friday, namely the Ecce Homo, with its highly photogenic (for the good and for the not so good) "farricocos", the masked penitents with black robes carrying metal baskets with burning cones, walking bare-feet through the city; but also the Burial of the Lord, the simpler but much more solemn and gloomy procession that takes place in the night of Good Friday, which is nothing more than a silent funeral march.
With all this in mind this year I set my eyes to Braga, with its intense Easter celebrations that I never had the chance to attend, and my good friend Emanuele Siracusa came along (if you haven't seen now it's a good time to check is work), we went there to go after that profound side of Easter, and because we weren't that interested in the brighter side of Easter we didn't wait for Sunday, left before the festivities ended to go after our next project.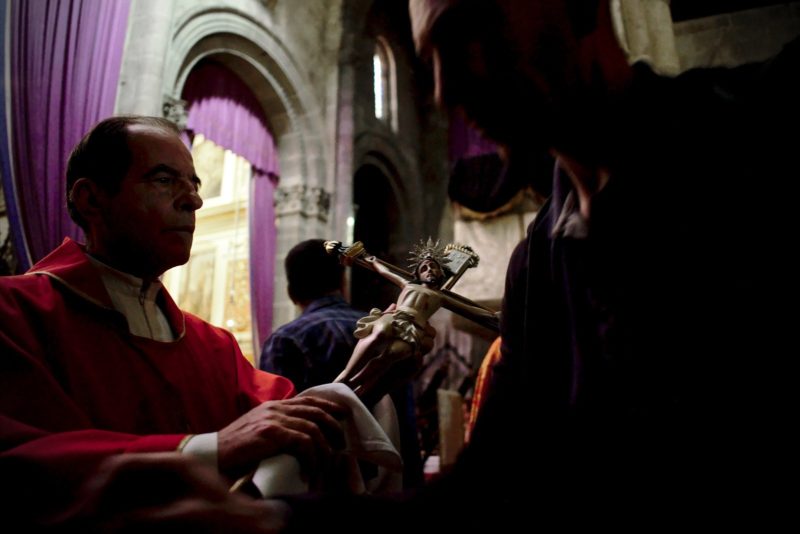 You can also check a selection of some of my favorite single shots from Portugal.